May 2007

Hello

May 1st, or Giorno dei Lavoratori in Italy, Loyalty Day in the USA, Labour Day, Walpurgis Night in Northern Europe, and most fun of all National Love Day in Czech Republic where couples tend to flock to the memorial of the poet Karel Hynek Macha in Prague and kiss. Book your flight immediately!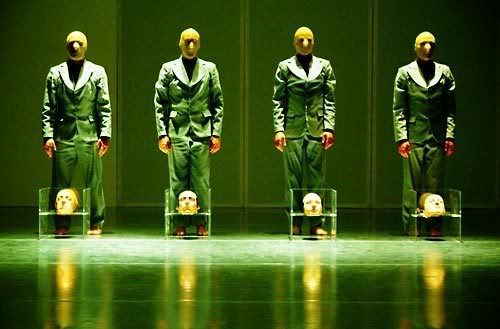 April was a month spent jetting from city to city, country to country, beginning in Lille France with the debut of 'Switch,' my collaboration with choreographer Thomas Lebrun, via The Sugar Factory in Amsterdam for the 10th anniversary for Steamin' Soundworks, for a discotastic night with VectorLovers and ice queen Lilian Hak. Hanging up my dancing shoes I was off to Parma Italy, Milano, Paris for the Pixelache Festival, through the markets of North Paris to shop and ending up in tiny Kitchener Canada for the Open Ears festival, where I presented my new adaptation of Jean-Luc Godard's 'Alphaville' to a contented crowd, and had the opportunity to browse the dusty book shelves of several second-hand book stores.

I hope that this new look for the newsletter is appealing - it's taken a lot of work and hopefully worth it :-) Let me know if there are any problems reading it.
Given all my travel adventures I'd decided to finally open them up to a wider world and have begun publishing images at
flickr.com
and in tandem have begun the process of uploading my archive of videos to
youtube
. So enjoy these at your leisure.
It's also been a busy month developing other projects. I soundtracked the introductory film to a groundbreaking exhibition of some of the world's earliest surviving sacred texts at the British Library in London. 'Sacred: Discover What We Share' features some of the most exquisite and rarest sacred books and manuscripts presented and explored, side by side, in a major UK exhibition for the first time. It's a free show where there are remarkable items such as a fragment of the Dead Sea Scrolls as well as a Koran written a hundred years after Prophet Mohamed's death in the 7th century and the Lindisfarne Gospels, which illustrate the richness of Anglo-Saxon art. I'm also just completing work on a new film for the Venice Biennial in collaboration with British filmmaker Steve McQueen, more of which I can reveal in June.
The fruits of my labours of collaboration with London based design group
FutureAcoustic
are now available to public exposure too. FutureAcoustic's a3 is a new system able to create intelligently adaptive and generative sound environments and I was commissioned to compose material that could respond to the world around us. FutureAcoustic works with composers, sonic artists and visionaries of design and architecture to research and develop architectural sound experiences that extend our understanding of sound as a malleable material of everyday environments.
In the future there will be an opportunity to use these systems within your own domestic and work situations too, but for the moment have fun this link. I'm responsible for the 2nd and 5th fa_avantgarde spaces.The 5th responds to the microphone input of your computer so the more noise you make the more it will respond to you!

We are also back into rehearsals for new Githead live shows, following the release of our second full-length album this month, Art Pop. Three years after our debut it's possibly our most realized work to date. Opening with 'On Your Own' ("a pop classic for the disenchanted"), via the PiL-style loping avant-dub of "Drop", through the spiky angularity of the Pixies-esque "Drive By", to the baggy dance-rock of "Rotterdam" and the electro-psychedelia of "Space Life", it's a celebratory record of a pop group in fine spirits. Reviews have been consistently complimentary too: "Simultaneously brooding, lush, aggressive and lyrical, this is a reclamation of pop and rock music at their most atmospheric and beguiling" (The Wire), and "Art Pop is a finely balanced record that seamlessly fuses familiarity and inventiveness" (All Music Guide).
To coincide with the release of Art Pop we Githeads have printed up a special Art
Git shirt
. These black shirts, available with designs in "classic" CMYK yellow and RGB red and "Matisse" orange & blue are available to purchase separately or can be combined with the new album for a special price of £20 (plus p&p). The original
Git-shirt
is also available to purchase as part of this special combo deal.
Our shirts are not only designed for Kate Moss waif-like figures either - we've added a very small quantity of XXL to the range, so if enjoy your cake and eat it and you've added a few inches then these are ideal to maintain that sexy comtemporary Art Pop look.
The UK & European release date for Githead's 2nd Album "Art Pop" will be 7th May 2007. There will be a corresponding US release date in the same week, distribution through Redeye.

Posteverything.com now have stock of my new pop song Moskau Disko (Binemusic) on heavy vinyl, so give old school electro a chance and get boogie-tastic. iTunes also continue to offer this and the entire back catalogue.
This month I'm off to Barcelona for the Storung Festival, Montreal for Elektra Festival with TeZ for our Blindscape presentation, Wroclaw Poland for Light Turned Downwith D-Fuse, and Vienna to perform a live soundtrack to Slomo: 100 Minutes of Slow Motion, created by 85 visual artists from all over the world.

I'll also be celebrating my birthday at the Throbbing Gristle concert at Tate Modern in London as part of this UBS/The Long Weekend at the end of the month. It's four days of live performances, art installations, events & activities, including installations by artists Matthieu Briand and Marepe. Highlights include NYC based musician Ikue Mori performing live soundtracks to seven experimental films by legendary avant-garde filmmaker Maya Deren, and the supremely demanding Sleep is Obsolete: Warhol/Cage/Satie with performances by Gavin Bryars, Michael Nyman and John Giorno. This is an all-night affair where Andy Warhol's first film, Sleep (1963), will be screened throughout the night accompanied by a re-creation of the 18-hour musical performance that inspired it. Bring a mixture of sugary snacks and a sleeping bag!
See you next month when I'm a little older and perhaps a little wiser!
Best wishes
Robin Rimbaud
::: listen :::
Erik Satie: Cubist Works 1913-1924 (LTM)
David Toop: Sound Body (Samadhisound)
Opsvik & Jennings: Commuter Anthems (rune grammofon)
Matt Rogalsky: Memory Like Water (XI Records)
::: read :::
Soundscape: School of Sound Lectures (Wallflower)
Matthew Barney: Drawing Restraint Vol IV (JMc & GHB)
Jennifer and Kevin McCoy: Tiny, Funny, Big and Sad (BFI)
Alain de Botton: The Architecture of Happiness (Penguin)
::: film:::
Renaissance, Christian Volckman, France
Thieves Like Us, Robert Altman, USA
Ae Fond Kiss, Ken Loach, UK
The Alibi, Matt Checkowski, USA


---

::: diary dates :::
2007
05 May-Störung Festival Barcelona Spain
12 May-Blindscape at Elektra Festival Montreal Canada
20 May-Light Turned Down with D-Fuse at Wroclaw Poland
24 May-Slomo:100 Minutes show Radiokulturhaus Wien Austria
02 June-Girona Spain
17 June-Githead Bar Music Hall London
19 June-Githead La Maroquinerie Paris France
23 June-Riff Ipswich UK
22 July-Tonspur 21 Launch Vienna Austria
27 July-Live at Fluc Vienna Austria
20 August-Duet with DJ Olive Chapelle des Brigittines Brussels
31 August-Duet with David Rothenberg, Kristiansand Norway
26 Oct-Museum of Garden History London
10 Nov-William S Burroughs event Paradiso Amsterdam
16 Nov-Blindscape with TeZ at La Casa Encendida Madrid Spain

2008
16 Feb-Night Haunts, Stockholm Sweden


---

Exhibitions

Night Haunts
By Sukhdev Sandhu
Design Mind Unit
Sound Design Scanner

Artangel Interaction invited writer and historian Sukhdev Sandhu to write a nocturnal journal unfolding over the course of 2006. His postings will appear sequentially at this microsite specially designed by Mind Unit. Sandhu's forays see him prospecting in the London night with the people who drive its pulse, from the avian police to security guards, zookeepers and exorcists. Acclaimed artist and musician Scanner has collaborated with Sukhdev and Ian Budden of Mind Unit to compose the sound for the site.
www.nighthaunts.org.uk
www.artangel.org.uk


Bittersweet Songs for the Sleepless City
Artangel Interaction

NightJam is the latest project in Artangel Interaction's Nights of London series of artist-led collaborations with people who have a special view on a hidden side of the nocturnal city. Scanner invited young people at New Horizon Youth Centre in King's Cross to collaborate on a creative project that expresses how the city at night looks and sounds to their ears and eyes. Through music and voice workshops they explored the sense of freedom and fear, celebration and solitude of the concealing darkness. Meanwhile, they captured their nights on disposable cameras, taking images that are at times eerie, startling, contemplative and funny. NightJam presents two elusive visual and musical journeys through the city's 'quiet' hours.

NightJam presents two music tracks, a film, photographs, that can be experienced and freely downloaded. A limited edition CD is also being distributed for free through the website. Now featuring remixes of NightJam by Stephen Vitiello, Hakan Lidbo, Troy Banarzi, Si-cut.db and Pete Lockett.

www.nightjam.org.uk